Accommodations
Barton Hill Hotel & Spa
100 Center Street
Lewiston, New York 14092
800-718-1812 or 716-754-9070
Guests at the Barton Hill Hotel & Spa will find luxurious accommodations and exceptional personal service. All of our elegantly appointed rooms and suites are decorated with an historic flair to reflect the heritage of the area and also feature the most contemporary amenities. Just 10 minutes from the Falls at Niagara, Barton Hill is set at the foot of the Niagara Gorge and offers 78 guestrooms, an incomparable Spa, offering complete amenities. In addition to stunning rooms and an attentive staff, guests enjoy some of the area's most exciting attractions and events in the historic and charming Village of Lewiston.
Barton Hill – "Life as it was meant to be lived". For further information please contact Diane at 716-754-9070. Barton Hill has been selected by the New York Post as one of the top 4 boutique hotel/spas on East coast.
Click here to visit our website: http://www.bartonhillhotel.com
Pipers' Village Inn
Bed & Breakfast / Tea Room
125 South 5th Street
Lewiston New York 14092
716-946-5547

Pipers' Village Inn is a circa 1890's traditional Victorian home, at the prelude of the historic district, in the Village of Lewiston. Out back sets a carriage house originally used for Dr. Kerr's horse, "chimes" and his carriage. It has been renovated into two beautiful Jacuzzi suites for the guests that wish to pamper themselves. Dr. Kerr's main house has four Victorian bedrooms that are available for your stay. All rooms have cable TV, wireless Internet, A/C and gourmet breakfast is included.
You may relax on the front or back porch and read a book from the library, play a tune on the piano, or just have a cocktail and socialize with other guests. All restaurants, shops, cafes, and events are in close walking distance. Dr. Kerr's Office has been converted into a tea room and gift shop for "High Tea." It's a perfect location for intimate gatherings, baby showers, bridal showers, etc… minimum four people. Please make reservations in advance. Everything is made from scratch by yours truly.
Click here to visit our web-site: http://www.pipersvillageinn.com
Niagara Falls North / Lewiston KOA
1250 Pletcher Road, Youngstown, New York 14174
Phone: 716-754-8013 Fax: 716-754-0064
Reservations only: 800-562-8715

Located within minutes of Historic Lewiston and Niagara Falls, enjoy the best camping accommodations in the area. Owners Leigh Ashley and Fran Prior will make sure your stay is pleasant and enjoyable in their 1 & 2 room Kamping Kabins, or their RV sites with up to 50 Amp service available, or the rustic tent camping sites.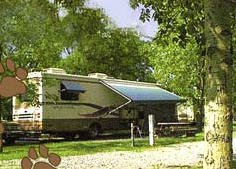 Electric, water, sewer hookups, Picnic table & fire ring at each camping site Drive-thru camping sites, LP gas (available with charge), Secluded tent camping sites, Clean campground restrooms and showers, Game room, playground, Hiking trails, Free modem service, Camp store with ice, fire wood, groceries, propane and mail service, Laundry, Dumping station, Firewood (available with charge), Bicycle rentals (available with charge), Kamping Kabins, Tours to Niagara Falls
Click here to visit our website: http://www.niagarafallsnorthkoa.com/

Riverside Motel
160 South Water Street
Lewiston, NY 14092
716.754.4101
The Riverside Motel is a quaint, vintage motel dating back to the 1950's. It was originally located in Artpark at the foot of the old suspension bridge to Canada. In the 60's, it was brought down to its present location.

We are located in the heart of Lewiston's historical water district, overlooking the Niagara Gorge. All ten rooms are non-smoking with private baths. The unique decor includes rocking chairs, knotty pine walls and antique replicas. Our large front yard is perfect for relaxing and taking in the river breeze.
The motel is within walking distance to fine and casual dining, Artpark, jetboats, shopping and the boat launch. If you prefer to do your own cooking, we do have two efficiency units available.
Our family owned and operated motel looks forward to your visit.
Click here to visit our website: http://www.riverside.vpweb.com

AMERICAN LOYALIST PETER SECORD INN
215 Four Mile Creek Road, St. Davids
Niagara-on-the-Lake, Ontario, Canada L0S 1P0
905-262-1030
Let us extend to you the warmest welcome to the Peter Secord House in Niagara-on-the-Lake, Ontario. The Whirlpool Sandstone building, built in 1782, is historically designated as the earliest Loyalist home in Niagara, surviving the burning of St. Davids during the War of 1812.
The Georgian Farmhouse is in a great central location, making it easy for visitors to navigate the Niagara area. We are close to old town, USA border, Niagara Falls, Niagara Parkway, Shaw Theatres, the largest outdoor shopping mall in Canada, walking distance to restaurants, wineries, golf course and convenient to more than 30 estate and craft wineries.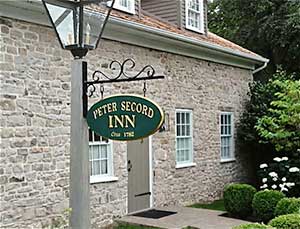 There's lots of comfort in this farmhouse that has been fully restored with todays amenities. Large well decorated bedrooms with sitting areas, ensuite bathrooms, central air-conditioning, cable TV, Wifi, parking and more. Full breakfast is served in the dining room (menu changes daily.) We look forward to seeing you! : Harry and Collette Murdoch
Click here to visit our website: http://historicsecordhouse.com
Attractions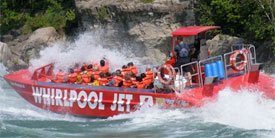 Whirlpool Jet Boat Tours
115 South Water Street
Lewiston, NY 14092
888-438-4444
Established in 1992, Whirlpool Jet Boat Tours is an exhilarating white water experience on the Niagara River with awe-inspiring scenery and historical significance. Passengers can choose between either a "Wet Jet" or "Jet Dome" experience. Riders on the "Wet Jet" tour must be at least 6 years of age and 44″ tall. Hydrate your senses as you prepare for Class 5 white water that's guaranteed to leave you absolutely soaking wet and amazingly refreshed on a hot summer day. For thos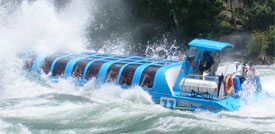 e who would rather stay dry or take great photos on their Jet Boat tour, there is the Jet Dome boat. Tours depart daily from the Water Street Landing in Lewiston, N.Y., the Niagara Glen in Niagara Falls, Ontario, as well as the King George III Inn in Niagara on the Lake, Ontario.
Visit our website here: http://www.whirlpooljet.com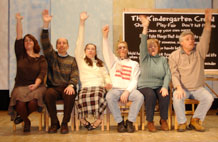 Theatre in the Mist, Inc.
P.O. Box 153
Lewiston, NY 14095
877-856-0694
A little bit of Broadway, right in your own backyard! Theatre in the Mist, Inc. is a non-profit community theater troupe that features cast and crew from all over Western New York and has its home stage at Stella Niagara's theater in Lewiston. The exciting 2008-2009 Season begins with Spoon River Anthology, October 24, 25, 26, followed by the Christmas musical, G.I. Holiday Jukebox! playing November 28-December 7. On stage in February '09, the Tony Award winning, Cole Porter musical, Anything Goes, and in April, the classic story of love, loyalty and friendship, Steel Magnolias. Theatre in the Mist, Inc. has produced such notable plays as A.R. Gurney's The Four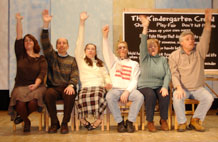 th Wall, Nunsense, Neil Simon's Brighton Beach Memoirs, To Kill A Mockingbird, Wait Until Dark, The Tell Tale Heart, You're a Good Man, Charlie Brown, Enemy of the People and many more. For further information on the upcoming season or to get involved in local theater, call 1-877-856-0694. This is truly the "best of theater right in your own backyard!"
Visit our website here: http://www.theatreinthemist.org